Isle of Man shark research given 'last-minute' funding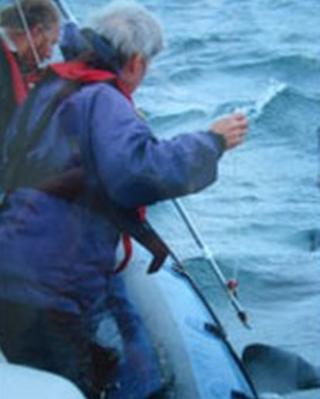 Marine scientists in the Isle of Man have received "last-minute" sponsorship for basking shark research.
The funding has come from both the Manx government and local finance company, Tower Insurance.
It will go towards a satellite tagging programme, which provides data about shark migration and feeding habits.
Jackie Hall from Manx Basking Shark Watch (MBSW) said the last-minute funding means two more sharks can be tagged and monitored in 2012.
She added: "When we started, no-one knew the behaviours or the understanding for the behaviours and patterns we are seeing.
"We, as a small group of volunteers, have answered a lot of those key questions in the last few years.
'Shoe-string' budget
"We operate on a shoe-string but we simply can't afford the tags unless people sponsor them."
MBSW has successfully tagged and tracked 18 basking sharks since 2007.
The tags, which cost about £4,000 each, are attached to the shark's dorsal fin and detach themselves after 226 days, during which they stream data to a satellite.
This summer the MBSW will be able to tag two sharks.