Isle of Man grand prix cost-cutting prompts protest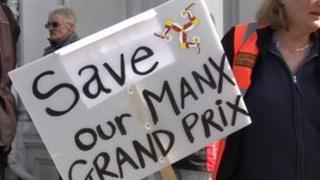 Plans to cut the cost of the annual motorbike Manx Grand Prix have prompted a public protest by racing fans in the Isle of Man.
The future of the race, which is held each September, came under government scrutiny after official figures showed festival losses of more than £300,000.
About 30 supporters gathered outside Tynwald on Tuesday morning to protest.
Spokesman Ali Foster said the government was not listening to the views of the Manx Motorcycle Club.
She added: "This is not a protest against change it is a protest against the way the government has handled this situation.
"They should be working together with the Manx Motorcycle Club who have run this event successfully for the past 90 years, but instead the club has been ignored."
The proposed changes include shortening the two-week festival to 10 days, reducing the number of modern races, bringing in professional riders and moving the focus to classic racing.
Economic Development Minister John Shimmin told Tynwald: "The changes are down to economics but it's also about finding a future for this event.
"If we spend tax-payers money, they expect a return and at present they are not getting this.
"There are many other issues of greater economic importance to discuss at the moment - this is a distraction we could do without, but it would be negligent if we did not deal with it."