Isle of Man police warn of heavy TT penalties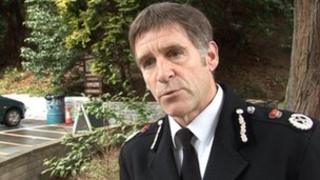 Isle of Man police are ready to issue heavy penalties to keep down the accident rate during the TT festival, according to the chief constable.
Mike Langdon said the force would be able to identify likely offenders because of the way they drive.
The warning comes ahead of the annual bike festival which is expected to bring thousands of fans to the island.
Chief Constable Mike Langdon said: "Some people use motorbikes like toys instead of dangerous machines."
He added: "It's fairly predictable who the likely offenders will be during TT, so the emphasis is on early intervention and strict enforcement which will result in fines, enforcements and, in some extreme cases, imprisonment."
The warning comes as the government launches the 2012 campaign to promote road safety.
It features a series of TT biking images with the strap line: "Stay alert. Stay alive".
A number of modifications to the roads will come into force for the duration of the races, from 26 May to 8 June, to improve safety.
A one-way system on the Mountain road is being re-introduced for the duration of the festival and there will be an increased police presence on the roads.