Isle of Man whale sighting is 'once in a lifetime'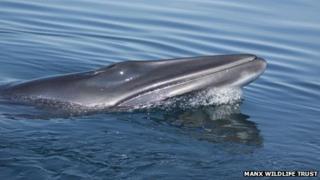 A close encounter with a minke whale near the south coast of the Isle of Man has been described by a marine expert as a "once in a lifetime" experience.
Eleanor Stone from the Manx Wildlife Trust recorded four separate sightings near the Calf of Man on Monday.
Minke whales, which can weigh up to 10 tonnes, are sometimes spotted off the Manx coast in late summer.
Ms Stone said: "We were amazed when the whale circled the boat, it really was a once in a lifetime experience".
She added: "No-one on the boat had ever seen a minke whale so close before, they normally don't pay much attention to boats and so we were amazed when it swam right under us."
The whale was spotted in a routine survey of the coastline by the Manx Whale and Dolphin Watch in association with the Manx Wildlife Trust.
Minke whales prefer cooler regions to tropical areas and can also be found in the Atlantic, Pacific, Indian and Arctic Oceans.