Diamond Jubilee: Isle of Man parliament presents gift to Queen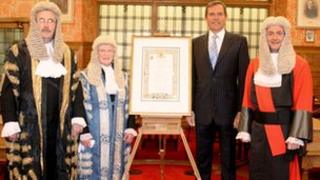 The Manx parliament has presented a gift to the Queen as part of the Isle of Man's Diamond Jubilee celebrations.
An illuminated address was handed to the Lieutenant Governor, Adam Wood, the Queen's representative on the island.
The presentation, which was open to the public, took place at a special sitting of Tynwald on 22 May.
At the event, Speaker of the House of Keys Steve Rodan said the Queen had provided the island with "a continuing and unwavering sense of duty".
He added: "We can all be proud to have Elizabeth II as our Lord of Mann."
The illuminated address features a scroll border based on the Celtic design along with the Royal cypher and the Manx Sword of State.