Isle of Man TT: Extra freight ferry hired for motorbikes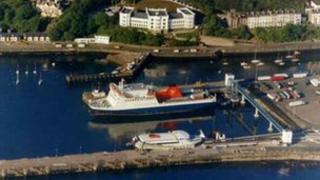 An additional freight vessel has been chartered by the Isle of Man Steam Packet Company to cope with demand during the TT races.
More than 11,200 motorbikes are already booked to arrive in Douglas during race fortnight, which begins on Monday.
The number is the highest for a decade with the exception of the event's centenary in 2007.
The freighter MV Arrow, which has been chartered from Seatruck Ferries, will assist in peak periods.
The vessel can transport around 1,000 metres of freight and is the sister ship of the freighter MV Helliar, which covered during the Ben-my-Chree's scheduled dry dock.
Steam Packet Company Chief Executive Mark Woodward said: "While MV Arrow doesn't bring any additional passenger space, we have already made provision for 43,000 extra seats scheduled over the TT period."
"This second chartered vessel provides additional operational resilience during the busiest time of the year."