Five new viewing places for TT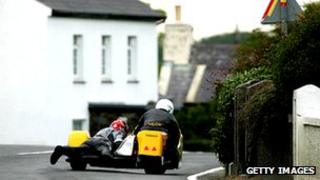 Fans watching this year's Isle of Man TT races will be able to view the event from five new vantage spots.
Organisers said the vantage points were placed in "some of the most spectacular viewing points" on the island.
Isle of Man Tourism political member Geoff Corkish said the new areas had been provided in response to the demand from fans.
"I am delighted we are able to bring them on line in time for TT 2012," said Mr Corkish.
He added: "Fans will always have their favourite spots, but as the TT audience grows we want to make sure that spectators have a wide choice of options for watching the races."
Organisers said the fanzones were chosen for their breathtaking views of sections of the course such as Crosby jump where bikes can hit 180mph and locations such as Ginger Hall on the edge of Sulby village and Creg-ny-Baa where spectators will see the riders as they approach from Kate's Cottage and the sweeping run downhill into Brandish.
Races start on Saturday and end on 8 June.