London 2012: 'Tireless' RNLI volunteers to carry torch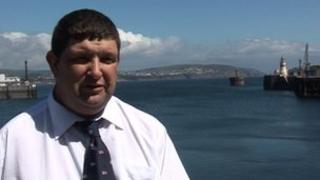 Two Royal National Lifeboat Institution (RNLI) employees have been selected to carry the Olympic torch when it arrives in the Isle of Man.
Simon McFerran and Juan Howland were both described as "tireless" workers by Douglas branch President Peter Cain.
Mr McFerran, 40, works as the souvenir secretary at Douglas and Mr Howland, 39, is the deputy second coxswain.
Mr Cain said: "These two men work tirelessly and I had no hesitation in putting their names forward."
The pair will be carrying the torch at different stages on 2 June - Mr Howland in Laxey and Mr McFerran in Onchan.
Both said they felt privileged to be representing the RNLI because of the strong connections the charity has with the Isle of Man.
'Proud connection'
The RNLI, which has more than 230 lifeboats stations across the UK, was founded in 1824 by Sir William Hillary from Douglas.
He was moved to action after witnessing a series of shipwrecks near the Manx coast.
Mr Howland said he was honoured to be helping mark the island's connection with the charity.
"We have a proud connection with the lifeboats and this is where it all began- that makes it even more special," he added.
"I will be carrying the torch in honour of all those involved with the RNLI and in memory of those who have made the ultimate sacrifice when saving the lives of others."
Mr McFerran, a self-employed newsagent who suffers from dyslexia and cerebral palsy, will be carrying the torch in honour of those who triumph in the face of adversity.
"I see it this way - cerebral Palsy suffers with me, I don't suffer with it. I can do whatever I want to do and I don't accept limitations.
"To think I will be carrying the torch, this part of history, it is incredible.
"It is one of those things I will look back on when I am old and grey and think, I actually did that," said Mr McFerran.
The Olympic torch will arrive at Ronaldsway airport from Liverpool on 2 June at 09:40 BST before it travels around the island.
During its visit, the torch will be carried through Douglas, Onchan, Ballasalla, Castletown and Laxey.
It will return to Ronaldsway at 15:55 before flying to Belfast.
During the day the torch will be carried on a TT sidecar, a horse tram and to Laxey on the Manx Electric Railway.
It will also be carried out into Douglas Harbour by RNLI lifeboat, Sir William Hillary.