Thousands of TT festival fans arrive in Isle of Man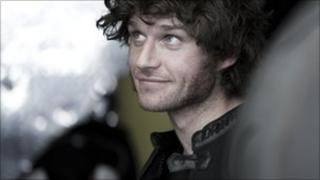 Thousands of motorbike fans are arriving on the Isle of Man ahead of the TT races which start on Saturday.
About 13,000 motorbikes are booked to arrive during the festival, the highest number since the 2007 TT centenary celebration.
An extra ferry has been chartered and temporary accommodation has been built at the Grandstand in Douglas.
Visitor Jim Scott told the BBC: "Coming to the TT races has always been on my bucket list."
He added: "My pal and I love the atmosphere, it's a bikers' paradise and the atmosphere is brilliant."
International fame
Research undertaken by the department of tourism shows the TT festival is more well known around the world, than the Isle of Man itself.
TT and Motorsport manager Paul Philips said: "For the Isle of Man, the TT festival and Christmas are the two bookends of the year.
"The races have a huge following, they are hugely important because they give the island international fame."
It is thought visitor numbers for this festival will see a significant boost after the release of the TT3D film Closer to the Edge.
The documentary vividly recounts the 2011 event, through the eyes of the riders, in the battle to become King of the Mountain.
Racing for TT 2012 begins on 2 June and concludes on Senior Race Day, 8 June.