Isle of Man beer tent to host TT wedding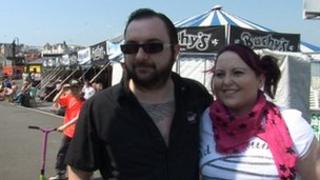 A beer tent on the Isle of Man will host its first wedding ahead of the TT races on Saturday.
Mark Sayle, 37, and Voirrey Clague, 33, have chosen to say their vows at the promenade TT hot spot, Bushy's.
They will be the first to marry there following last year's change in Manx law which afforded more flexibility in choosing civil ceremony venues.
Mr Sayle said: "The TT has been such a big part of both of our lives, it just seemed the right thing to be honest."
He added: "Everyone we know has been very excited about it and we are so looking forward to it."
Bottle van
The tent is run by Isle of Man company Bushy's Brewery and has become a popular gathering spot for residents and visitors during the TT festival.
Mr Sayle's bride-to-be will be picked up by the Bushy's bottle van and escorted to the tent by motorbike stunt group, the Purple Helmets.
After the ceremony the tent will open to the public.
"The TT atmosphere is amazing, everyone is happy and having fun and I think it would appeal to just about anyone as a good time for a wedding," said Ms Clague.