Yachts towed to safety from rocks near Isle of Man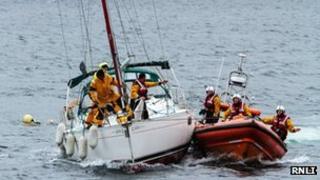 Two yachts have been towed to safety by the Isle of Man lifeboat after getting into trouble near breakwater rocks.
The craft were brought back to Port Erin Bay on 3 June after problems with strong winds and engine failure.
An RNLI spokesman said it was the second emergency call-out for yachts during the weekend.
On Saturday night at about 21:30 BST crews were alerted after a catamaran with five people on board experienced engine failure.
There were no injures in the incident which happened between Holyhead and the Isle of Man.