Isle of Man donates after severe flooding in Nepal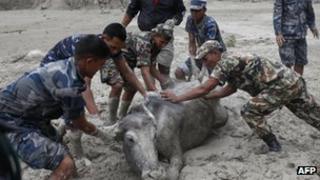 The Isle of Man overseas aid committee has donated £25,000 of emergency funds after severe flooding in Western Nepal.
More than 40 people were killed after a river in Mount Annapurna burst its banks on 5 May.
Committee chairman Phil Gawne said: "Efforts to raise further funds for the area are ongoing and I urge the public to support the appeal."
Two villages were badly hit when water surged down the Seti river because of a landslide.
Officials say that rocks, earth and other debris blocked the river and caused flash flooding.
The UN says that houses, temples and community buildings were completely swept away in the villages of Kharapani and Sardikhola.