Archibald Knox lamp sells for £68,372 in Paris auction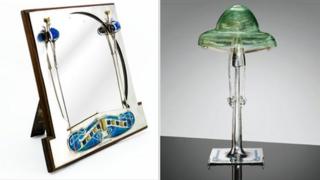 A rare silver table lamp designed by the Manx artist Archibald Knox has sold in Paris for almost £69,000.
Designed in 1905, the lamp was part of the Sotheby's 'Arts Decoratifs du XXe Siecle & Design Contemporain'.
The lamp was given a estimated value of between 60,000 and 90,000 euros but sold for 84,750 euros (£68,372).
During his career he worked for Liberty & Co that established him as the foremost designer in the English Art Nouveau movement.
Chairman of the Archibald Knox Society, Liam O'Neill said: "Today, after Mark Cavendish he is unquestionably the best internationally known Manxman.
'World famous'
"His work is exhibited in national museums from London to Tokyo and New York to Sydney. However, we must ask the question as to whether, here in the Isle of Man, we are fully exhibiting, promoting and marketing [him].
"The fact that Archibald Knox's metalwork and in particular his silver (Cymric) designs for Liberty & Co. of London and Paris are auctioned along side the work of other world famous international decorative designers such as Emile Galle and Rene Lalique shows the high esteem worldwide for Knox's work."
Mr Knox was born in Cronkbourne Village in the Isle of Man in 1864 and the island inspired much of his art work.
His Liberty designs include silver, pewter, carpets, pottery, jewellery and textiles made him a house hold name. He also worked as a teacher, illustrator and during the war, a censor at an island internment camp.
Last year at the same auction in Paris, a Knox-designed mirror sold for 114,000 euros.