Isle of Man Parish Walk to be started by nine-year-old girl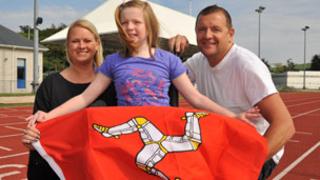 A nine-year-old girl who has a rare degenerative condition has been named as the official starter at this year's Isle of Man Parish Walk.
Sophie Birtles, who has Juvenile Sandhoff Disease, has been chosen to start the 85-mile challenge.
The walk is the island's biggest annual community sporting event and has attracted 1,818 entries this year.
Sophie's mother Alison said: "She is really looking forward to waving the Manx flag to start everyone off."
She added: "As parents it is our duty and our pleasure to make sure that Sophie lives her life to the fullest and that she can experience everything that life has to offer within her limitations."
At the age of five, Sophie, who now relies on a wheelchair to get around, developed a tremor and became unsteady on her feet.
"Doctors tell us that children with this rare disease usually have a life expectancy of 13 years," Mrs Birtles said.
"We have learnt a new way to live life, and that is to live one day at a time."
The Manx Telecom Parish Walk will start at the National Sports Centre in Douglas at 08:00 BST on Saturday.