Viking Longboat World Championship registration opens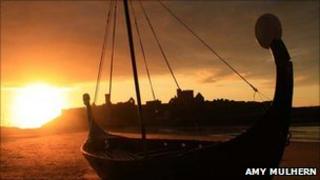 More than 70 teams are expected to sign up for the 49th Viking Longboat World Championship next month.
The competition has classes for all-male, all-female and mixed teams who take part in a time trial-style race in Peel.
Organiser James Lee said: "It's a tough challenge but it's also a lot of fun to row these amazing longboats."
Each of the four longboats is made from fibreglass and requires a team of ten people to row during the races.
Teams must complete two practice runs prior to the event to get used to using the 11ft oars.
Earlier this month, a Manx Viking longship, the Vital Spark, represented the Isle of Man in the Thames Diamond Jubilee Pageant in London.