Isle of Man education minister sacked after film vote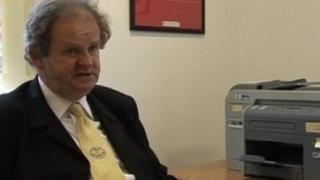 The Isle of Man's education minister has been sacked after opposing a decision to invest millions of pounds in the film industry.
Peter Karran has been stripped of his title after objecting to proposals for a £49m link up with Pinewood Studios.
According to chief minister Allan Bell, Mr Karran, the leader of the Liberal Vannin party, withdrew support after discussions with other party members.
Mr Bell said: "Mr Karran had been made clear about what this would mean".
He added: "I told him that if he continued along that line he would almost certainly be removed from his ministerial position so this is really something he has initiated himself.
"Government does have well established rules on the collective responsibility that is expected of all Ministers and Departmental Members. As Chief Minister I must ensure that those rules are applied consistently and fairly."
Mr Karran has been unavailable for comment since his dismissal.
The Tynwald debate over the island's future in the film industry took place on 19 June.
It lasted for more than five hours and resulted in a majority vote for the Pinewood Shepperton investment.
During the debate, Treasury Minister Eddie Teare claimed the opportunity would provide the people of the Isle of Man with "tangible benefits".
But Mr Karran objected saying the proposals should be given more scrutiny.
He told the meeting: "These proposals should be put to the public accounts committee - I think the public deserves that.
"These are hard times and while I am not frightened to make hard decisions, we have to be consistent and as far as this decision is concerned, we are falling back into old tricks".
A government spokesman said Health Minister David Anderson will take on the education department in until a new appointment has been made.