Isle of Man prison staff awarded Queen's Jubilee Medals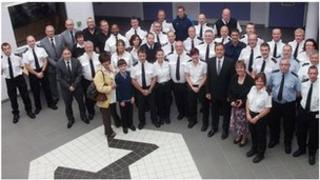 Almost 100 staff at the Isle of Man prison in Jurby have been awarded the Queen's Jubilee Medal.
Ninety-six officers will receive the medal, which is issued on behalf of the Queen to honour the dedication and service of public sector workers.
The first group were presented by the Lieutenant Governor Adam Wood, who praised the "valuable contribution" of the prison service on the island.
Prison governor Alison Gomme will award the remaining medals.
Mr Wood said: "The prison and its personnel played an important role by helping to maintain community safety in the island and to resettle offenders into the community on completion of their sentences."
The honours are given to police officers, firefighters, prison guards and soldiers with at least five years' service.