Isle of Man artist wins BBC Wildlife competition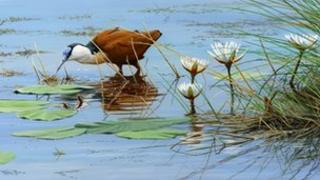 A painting by an artist from the Isle of Man has won best of category in the final of the BBC Wildlife Artist of the Year 2012.
The work entitled African Jacana by Dr Jeremy Paul, from Colby, won the World Birds section of the competition.
The painting was selected by judges from more than 1,000 entries from all over the world.
Dr Paul said: "To have won one award was very nice but to have won three in a row is beyond all my expectations."
Last year Dr Paul's painting Southern Ocean - Wandering Albatross won the Frozen Planet category of the competition and in 2010 his painting of an otter won in the British mammals category.
Dr Paul, who has lived all over the world, was a marine biologist before becoming a wildlife artist.
Next year he will celebrate having been a full-time artist for 25 years with a special exhibition in the Isle of Man.
"My aim as a wildlife artist is not merely to illustrate but to impart the atmosphere of the setting and the feel of wildlife in its natural environment," Dr Paul said.
"I spend many hours in the field observing wildlife and looking for settings and lighting to inspire an idea for a painting - my greatest thrill so far has been following tigers in the wild."
Presentations and an exhibition of the winning paintings from each category will take place at Rookesbury Park Manor in Hampshire this September.
The winning paintings will also be published in the August issue of the BBC Wildlife magazine.