Tynwald Day 2012: Manx national day focuses on fun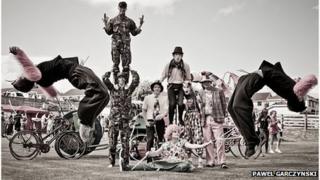 National Day celebrations in the Isle of Man will focus on giving youngsters the chance to learn something new, the president of Tynwald has said.
Clare Christian said Tynwald Day activities included music sessions and circus workshops in acrobatics and tightrope walking.
Local artists will also run a series of classes on Manx music and art.
Mrs Christian said: "The emphasis is firmly on presenting young people with exciting opportunities."
Isle of Man based group, The Play People, will be delivering a variety of performances and workshops throughout the day including parkour, acrobatics, unicycling, both on the green and the arboretum.
'A few surprises'
Director Mike Bell said: "We are very excited to play our part in such an exciting day in Manx history.
"We have got lots of activities planned and we've got a few surprises up our sleeves as well.
"It is great that their is a focus on young people at this year's Tynwald Day, even though it is routed in history and tradition it is great that new ideas are welcomed," he added.
Tynwald Day Enhancement Coordinator, Aalish Maddrell added: "We wanted to create a real family friendly atmosphere and there will certainly be entertainment for all the family."
Tynwald Day is the only day of the year when parliament is held in the open air and the public get the chance to lobby the lawmakers by presenting petitions.
The ancient ceremony has been held at Tynwald Hill for more than 1,000 years.
Tynwald is the oldest continuous parliament in the world.
The whole ceremony will be available to watch live on the BBC Isle of Man website.