No Manx independence plans: Chief Minister Allan Bell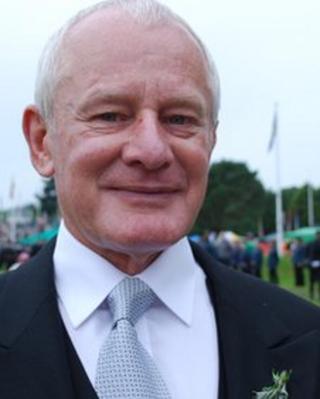 The Isle of Man government has no plans to change its constitutional status as a British Crown Dependency, according to the island's chief minister.
Allan Bell MHK was responding to Rushen MHK Laurence Skelly's call for an independent review into the benefits of breaking ties with the UK.
"Now is not the time to raise a major question over the island's future," said Mr Bell.
Mr Skelly asked for the review in Tuesday's sitting of Tynwald.
The Rushen MHK said: "A fresh look at the pros and cons is long overdue."
Last month Jersey's Assistant Chief Minister Senator Sir Philip Bailhache said the Channel Island should be ready to become independent from the UK.
Sir Philip's comments came after the UK government said it was cracking down on tax avoidance.
'Meaningful debate'
Mr Skelly said: "It is very topical at the moment following the deputy chief minister of Jersey's comments and it is appropriate to ask the same questions here in the Isle of Man.
"I think we need to review our constitution status and have a look at what the options are."
The last report into Manx independence was drawn up in the 1990s.
Mr Bell said: "In line with policy recommended in the report of the Council of Ministers on the implications of independence, which was approved by Tynwald in November 2000, the Isle of Man should continue as a Crown Dependency, but pursue the constitutional development of the island."
"This report was very comprehensive and identified that whilst there may be some potential, albeit intangible advantages of independence, these could be heavily outweighed by the potential disadvantages, which I believe remain at this point."
Mr Bell added: "Now is not the time to raise a major question mark over the island's future that might weaken business confidence in our political and economic stability."
The Isle of Man is an internally self-governing Crown Dependency and not part of the UK.
Although the UK government has paramount power to legislate for the Isle of Man on all matters, it is a long-standing convention that it does not do so on domestic matters without the island's consent.