Parents invited to apply for pre-school credit scheme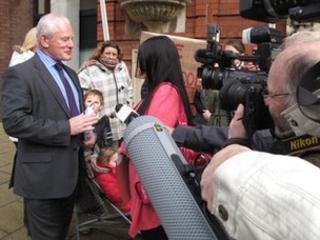 Parents of children who are eligible for a pre-school credit scheme on the Isle of Man have been invited by the government to submit applications.
The scheme was announced after thousands of parents opposed cuts in childcare earlier this year.
A Department of Education and Children spokesman said: "A credit certificate with a value of £350 will be available to parents of all eligible children."
Parents can use the money to pay for registered providers of child day care.
Eligible children must reach their fourth birthday between 1 September 2012 and 3 August 2013.
There is an additional £800 for those who would be eligible for free school meals.
The scheme is expected to cost in the region of £400,000 a year as opposed to the £1.7m bill for providing pre-school places for all.
The revised arrangements were announced in March by the Council of Ministers' working party on pre-school provision.
The decision to close 11 pre-schools on the Isle of Man prompted protests outside Tynwald when parents presented a petition with thousands of signatures.
Application forms can be downloaded online .
On Tuesday, the Department of Education and Children confirmed that a private operator offering day care facilities will take over the tenancy of Bride School.
The nursery will operate from September, offering childcare for two to four-year-olds, including pre-school.