Trevor Baines auction raises £20,000 to help pay debts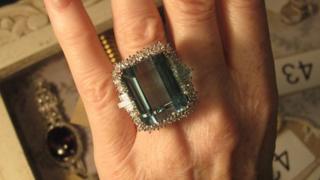 Jewellery, watches and photographs belonging to a jailed millionaire have raised just £20,000 to help pay off his debts at auction.
Auctioneer David McNeill said 180 bidders had registered their interest in the Douglas auction of property belonging to Trevor Baines.
The 72-year-old was convicted of money laundering in September 2009.
Mr McNeill said: "We only had 40 buyers on the day. It must be the recession raising its head."
Bainess was jailed for six years in 2009 following a five-week trial in the Isle of Man.
'More interested in the case'
Mr McNeill added: "I guess a lot of people were more interested in the case than actually purchasing on the day of the auction."
Eighty-nine lots from the former businessman's Africa House home in Douglas were put up for sale by the Isle of Man coroner on Friday.
The auction included jewellery, watches, two photos of Adolf Hitler, and a pair of bronze baboons.
A white gold cluster ring with cut diamonds was the most the expensive lot raising around £5,000.
Baines's fortune was amassed mainly from his property empire, but he is also understood to have been one of the early investors in the Miss World franchise.
The coroner is the government-appointed bailiff and it is thought the sale will contribute to clearing Baines's debts.
In February 2011, Baines's wife Wendy, 52, was sentenced to 18 months in prison for stealing £400,000.
Her conviction stems back to the money laundering trial in 2009 when Mr Baines was jailed for six years.