Grey seal caught in plastic prompts Manx litter warning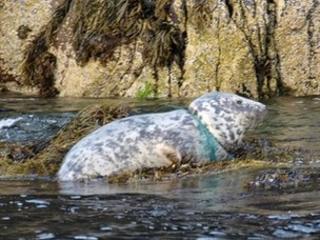 A grey seal photographed with plastic around its neck has prompted a litter warning from the Manx Wildlife Trust.
The female grey seal was spotted on rocks at Kitterland, inbetween the Sound and the Calf of Man, with plastic wrapped around her throat.
Marine officer Eleanor Stone said "rubbish often isn't left maliciously".
The trust said it was unable to remove the netting because wild seals were difficult to approach on land, and too fast to approach in water.
Mrs Stone said: "This situation clearly demonstrates the danger of littering and in this case it could potentially prove fatal.
"She is a wild animal and would react very aggressively if we approached her.
"It looks like the plastic is wrapped very tightly and the seal might not be able to properly open her mouth to feed, if the net gets twisted.
"If it tightens it could strangle the seal or cause a nasty wound."