Yacht breaks from harbour mooring in Port St Mary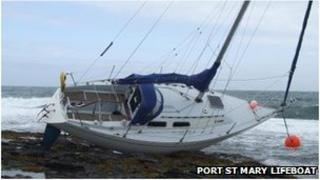 A 32ft yacht was washed ashore after its mooring failed in Port St Mary.
The local lifeboat crew were alerted at 14:36 BST on Sunday but did not launch as the owner confirmed with coastguards that no-one was on board.
Morgan Guy, a mechanic for the Port St Mary lifeboat, said it would require a crane to remove the vessel from its position.
The boat is currently stranded on rocks at Cartre on the northern side of the Isle of Man town's outer harbour.
Mr Guy said: "The yacht's mooring had failed and the yacht went aground just after high water on a spring tide, but it has suffered little damage."