London 2012: Olympic role for Isle of Man TT marshal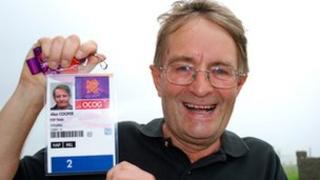 A TT marshal from the Isle of Man has been chosen from 250,000 hopefuls to be an Olympic Games maker at London 2012.
Alan Cooper, 56, has been through hours of training in preparation for his role as a team leader marshal on Saturday.
The Douglas man is also involved in the women's road race on Sunday and the Olympic time trials on 1 August.
He said: "It's good to think that Mark Cavendish won't be the only Manx man in the race - he will be a matter of feet away when he cycles past me."
He added: "It will all happen very fast, I will hopefully recognise his helmet and of course I won't be distracting him by cheering or waving a Manx flag.
"I will be really close to the whole Olympic field and it is such a tremendous honour. It's a unique experience to be so close to so many top class athletes."
TT advantage
The men's road race, approximately 150 miles (240km) long, starts at The Mall in London on Saturday at 10:00 BST and moves through the centre of the capital, Richmond Park and into the Surrey countryside, finishing back at The Mall.
Mr Cooper is in charge of a team of 12 marshals and is responsible for flagging up any obstacles in the road as well as crowd and pedestrian management.
He will marshal on a sector of the race in the Surrey countryside.
Mr Cooper is one of 50,000 volunteers chosen from a field of more than 250,000 people who wanted a chance to work at the event.
He said his six years of TT marshalling experience was a distinct advantage in the application process.
"Once I put my application in, I didn't hear anything for nine months then I was called to an interview about 18 months ago," said Mr Cooper.
"At the interview it emerged that my experience as a TT and Manx Grand Prix marshal was particularly useful for the road races, I think that helped a lot for being selected for this role."
If Mark Cavendish wins the men's road race he will become the first British gold medallist in the London 2012 Olympics.
The 27-year-old cycling champion told BBC Isle of Man earlier this year that a gold would "complete his set", having already won the Tour de France green jersey along with gold medals at the World, European, Commonwealth Games and British championships.