Shark with plastic around nose prompts litter warning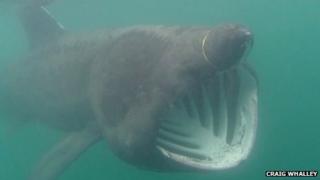 A marine scientist has urged people to "think twice about litter" after a basking shark was filmed in Manx waters with plastic around its nose.
The sighting comes just two weeks after a grey seal was pictured with plastic around its throat near Kitterland.
Jackie Hall, of Manx Basking Shark Watch (MBSW), said: "The images are terrifying."
The basking shark was filmed by a kayaker off the coast of Peel, who described it as "extremely upsetting".
Craig Whalley, 41, who has been kayaking for more than 15 years, said: "I was out with two basking sharks near Contrary Head near Niarbyl. They were metres from the shore. Both were about five metres long.
Tagging sharks
"I didn't spot the plastic until I got home and watched the film and it was extremely upsetting.
"When I am out kayaking I often see animals which have been the victim of litter and maybe if more people saw the damage it causes they would be more careful."
Basking sharks are the second largest fish in the world and feed on plankton. In the past two days, 12 basking sharks have been spotted in Manx waters along with Risso's and bottlenose dolphins, porpoises and a minke whale.
Mrs Hall's Manx Basking Shark Watch has been carrying out specialist research into basking sharks since 2004, including cutting-edge tagging projects.
She added: "They are incredibly rare and seeing one in distress is very upsetting. We have been to observe its behaviour and it is acting in a very unusual manner.
"We are incredibly lucky to have these animals visit us in the Isle of Man and I would urge everyone to think twice about litter."
"We all need to be more careful."
The MBSW has successfully tagged and tracked 18 basking sharks since 2007.