Isle of Man motorbike team breaks land-speed record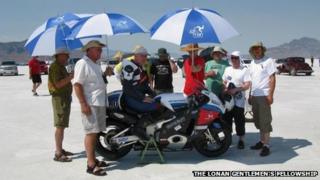 A team of Isle of Man motorbike enthusiasts have set a new land-speed record on the salt flats of Utah.
The team averaged 188.730mph over two runs on a bike they made in the Isle of Man to beat the current record for the modified 500cc class by over 12mph.
Project Manager Suzy Starlite said: "We did it. It's been an incredible experience and we must thank everyone for their unbelievable support."
The previous record had stood for more than 33 years.
'Like a dream'
The Lonan Gentlemen's Fellowship completed their runs at the Bonneville Speed Week.
The team consists of the reigning British sprint champion Paul Hodgson, Bob Watson, Stu Harvey and Suzy Starlite, with rider Richard Barks.
Mr Barks said: "It's been tremendous really and a bit like a dream. The whole team has pulled together to make this happen.
"We completed our runs in the mornings because it is really hot out here and the bike runs better in the cooler temperatures."
He added: "To reach 191mph on the second run out here is tremendous. It's a bit like racing on a beach with a set of racing slicks on. It has been an incredible experience."
The team have four more days to improve on their record.
Mr Barks continued: "With some slight modifications we can try and break a few more records or we might go for the 200mph barrier. We will see how the week pans out."
The two-year project to build the bike saw many local businesses help with manufacturing parts and sponsorship.