Cregneash in the Isle of Man to revisit World War II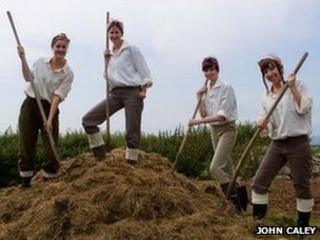 Isle of Man residents will this weekend get the chance to experience what life was like at Cregneash during World War II.
Visitors can watch the Women's Land Army at work and take part in a variety of 1940s activities.
During the war, more than 200 women worked on the island's farms in place of the men away at war.
Site Manager Anita Hogarth said the demonstrations show the "good and bad of rural life during the war."
There will also be guided tours around the remains of the Second World War Radar Station on Meayll Hill.
The event will coincide with Isle of Man Steam Railway's Island at War event which gives people the chance to ride on vintage transport.
People will be able to take part in workshops including cookery, butter making and patchwork.
Thousands of men and women were interned on the Isle of Man during World War II.
Most were Jewish refugees who found themselves arrested by the British as enemy aliens in May 1940 after the fall of France.