Manx Grand Prix road safety campaign launched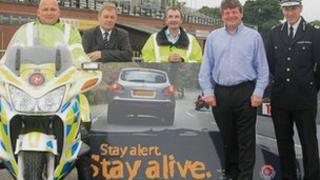 A campaign to promote road safety in the Isle of Man during the Manx Grand Prix racing festival has been launched.
Sergeant Allan Thompson said the 'Stay Alert Stay Alive' campaign, is designed to "keep the public safe rather than targeting arrests".
Mr Thompson said: "The dangers are obvious and we will be going the extra mile to ensure the riders and public stay safe throughout the fortnight."
The event's first practice session will be held on Saturday.
Unlike during the Isle of Man TT, the Mountain Road will remain two-way throughout.
'Five deaths'
Mr Thompson said: "We want to educate and inform as many people as possible over the danger of speeding during the two weeks.
"We will have a visible presence around the course throughout the fortnight.
"We will be doubling our staff and have high visibility cars around the course especially in the speed restricted areas. We will also have covert cars with cameras on patrol."
The government hopes hard-hitting pictures on posters and billboards will leave a lasting impression on residents and visitors.
Infrastructure Minister David Cretney said: "The key message is - if you want to ride fast get a race licence.
"During this year's TT festival there were no fatal race incidents, but tragically there were five motorcycle fatalities on our roads."
"We want motorcycle enthusiasts to enjoy the festival, and also make sure they stay safe on the island's roads," he added.
According to the Steam Packet company motorcycle bookings for this year's festival are currently showing a 16% increase on last year.