Manx summer wettest on record, Met Office confirms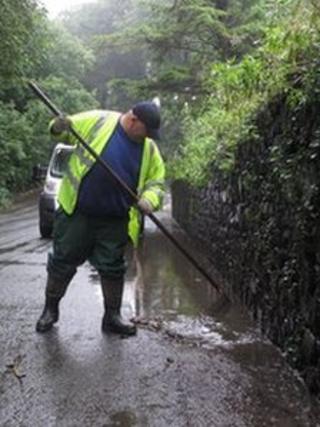 The Isle of Man has recorded the heaviest summer rainfall since records began in 1947, according to the island's Met Office.
So far 334mm of rain has fallen between 1 June and 17 August.
Senior Met Officer Adrian Cowin said: "The summer figures run until the end of August and we have already surpassed the previous record."
The average Manx summer rainfall between 1 June and 31 August is 185mm.
The previous wettest summer came in 1985 when 330mm of rain fell in the three-month period.
Mr Cowin continued: "It is quite remarkable really, we still have two weeks of the month remaining and we have already received more rain.
"Most parts of the British Isles have had an unusually unsettled summer, with areas of low pressure giving often windier, duller and wetter conditions.
"It has been caused by the North Atlantic jet-stream being further south than normal."
The jet-stream is the strong band of high altitude wind that controls the development and movement of pressure systems.
In the summer it would normally be located to the north and north west of Scotland, but this year it has stayed over or near the south west and south of the Irish Republic, Wales and England; but sometimes over the Bay of Biscay.
The heavy rain has led to a number of the Isle of Man's roads being closed by police.