Manx Grand Prix practice halted by marshal shortage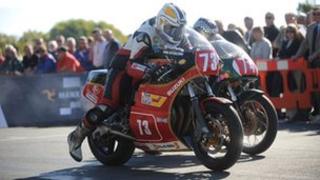 The first practice session of the Manx Grand Prix had to be curtailed on Saturday due to a lack of marshals.
Worries about the Snaefell Mountain Road surface following Friday's flooding meant practice was limited to the newcomer's controlled speed lap.
About 50 riders took to the course almost an hour after the original start time of 17:20 BST.
The mountain road reopened on Saturday at noon after debris was cleared from a landslide.
Chairman of the TT Marshals' Association, Terry Holmes, said it was frustrating to reduce the practice session especially as conditions appeared to be so good.
"We can only apologise to the riders who didn't get out there," he said.
He said the practice rotas for marshals were only provisional and depended on who actually turned up on the day.
"You can have a situation where 30 people are listed but only 25 have turned up once the roads have closed," said Mr Holmes.
The next practice session will be on Monday evening and roads will close at 18:00 BST for the start 20 minutes later.