Three rescued as Manx yacht suffers engine failure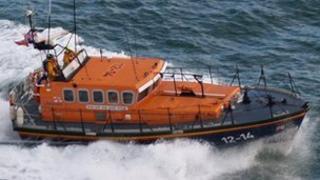 Three people have been rescued from a yacht off the north coast of the Isle of Man after its engines failed.
Two men and a woman were returning from the UK when they ran into trouble and called the Ramsey harbour office at 12:55 BST on Tuesday.
Station mechanic Ali Clague said: "They were experienced sailors and luckily they called us before the situation had chance to escalate."
The Ramsey lifeboat towed the 30ft yacht back to harbour.
The group had contacted the Ramsey harbour office and Liverpool coastguard to request RNLI Lifeboat assistance as soon as the engines had failed two miles east of the Point of Ayre.
Mr Clague added: "We found the yacht struggling to make headway due to the prevailing wind and tidal conditions.
"We were able to rescue them before the conditions deteriorated," he added.
The yacht was returned to Ramsey harbour by 15:00 BST.