Manx team sets second land-speed world record in Utah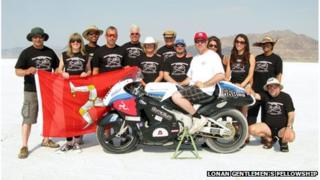 A team of Manx motorcyclists who set two land-speed records have said they will remember the experience for the rest of their lives.
The Lonan Gentlemen's Fellowship set their second world record on Friday, recording an average speed of 203.37mph on their 500cc machine.
"Words cannot express what this means to all of us," said project manager Suzy Starlite.
The team's second world record was set in the APS-BG 500cc motorcycle class.
"It was everything and more that the team could have wished to achieve," Ms Starlite said
'Stay with us'
The 500 Manxman machine, engineered by reigning British sprint champion Paul Hodgson, is the first non-streamliner production based 500cc motorcycle in the world to officially break the 200mph barrier.
It was their second world record performance on the salt flats of Utah, after rider Richard Barks averaged 188.730mph over two runs, to beat the current record for the modified 500cc class by over 12mph.
The previous record had stood for more than 33 years.
Mr Barks said: "It has been an incredible once-in-a-lifetime experience which has challenged us in ways you could never imagine.
"It will stay with us all for the rest of our lives.
"We would like to thank everyone who has helped us to make this happen."
"It is everything we could have ever dreamed of and more."
The Lonan Gentlemen's Fellowship completed their runs at the Bonneville Speed Week.
The two-year project to build the bike saw many local businesses help with manufacturing parts and sponsorship.