Loaghtan ram sculpture arson shocks campsite owner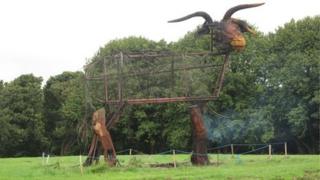 The owner of the Isle of Man campsite where a 15ft-tall sculpture of a Loaghtan ram was burnt down said he was in "utter disbelief".
Glenlough owner Peter Quayle received a call from the campsite's warden in the early hours of Thursday to say it was ablaze.
"We are all in shock and disbelief, we can't understand why anyone would do this," said Mr Quayle.
Anyone with information is asked to contact Peel Police Station.
Police confirmed the sculpture was burnt down in the early hours of Thursday.
More than 150 campers are currently using the site during the Manx Grand Prix road races.
Mr Quayle said: "It is very lucky that no-one was hurt."
Mr Quayle's daughter Stephanie Quayle-Jackson and her husband Darren were commissioned by the Mannifest music festival in August 2011 to create the artwork.
Mrs Quayle-Jackson said: "I am so upset. I don't understand why anyone would burn the sculpture down, especially in the middle of a campsite."
The sculpture took the pair more than three weeks to create and was constructed around a metal structure with specially carved tree trunks for legs.
It had recently been revamped at a cost of £1,400 for this year's music festival.
The family-run campsite has been in the Quayle family for more than 90 years.