Second Isle of Man kayak rescue prompts RNLI warning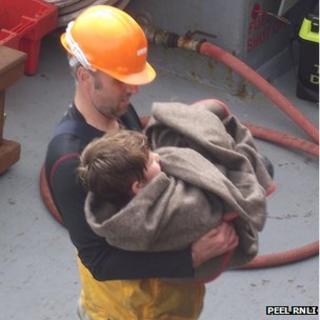 The rescue of two children swept out to sea by strong offshore winds prompts a warning from the Isle of Man RNLI.
On Tuesday a nine-year-old girl was rescued at Derbyhaven, just two weeks after a seven-year-old boy was swept out to sea near Glen Wyllin.
Both children lost their paddles and were quickly blown out to sea.
Peel RNLI's Mal Kelly said: "The situation was almost identical and both could have had tragic consequences."
On both occasions the mothers had swam out to try to help their children, but they could not catch them.
'Situations can escalate'
Port St Mary Lifeboat and Liverpool Coastguard were involved in Tuesday's rescue operation, but the girl was picked up by the airport's rib, which was dispatched to help by Castletown coastguard.
Mr Kelly said: "The conditions can be completely different 100m off shore and parents need to be aware. These lightweight crafts can be picked up and blown out to sea quickly and situations can escalate.
"I would urge all parents to be extra careful when visiting the seaside and young children playing in kayaks could even have a line attached to limit the chance of them going out to sea.
"In both of these cases they had lost their paddles and had no way of paddling back to shore.
"The mothers of both children were there but could not catch up with their child as they were swept out to sea."
The RNLI recommends that all children should wear life jackets.