Potatoes wash up on Isle of Man beaches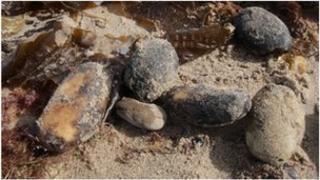 Thousands of potatoes have washed up along the north west coast of the Isle of Man, according to a local beach cleaning organisation.
Beach Buddies' Bill Dale first spotted the vegetables at Ballaugh Cronk and has since found more at The Lhen, Blue Point and Smeale beaches.
"It's not exactly what you expect to find on a beach," said Mr Dale.
The organisation estimates about 2,000 potatoes have been washed up so far.
Mr Dale said: "I'm more used to huge numbers of plastic bottles and tins cans - but I reckon the number of potatoes is giving the plastic bottles a run for their money at the moment."
"They are pretty rotten and are not fit to eat but they are are welcome treat for wildlife around the coast."
The beach cleaning organisation runs regular beach cleaning sessions all over the Isle of Man.