Isle of Man help for Sierra Leone cholera outbreak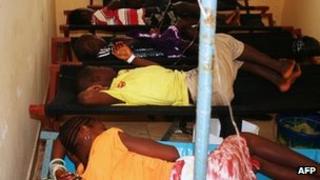 The Isle of Man overseas aid committee has donated £25,000 to help efforts to control a cholera outbreak in Sierra Leone.
The death toll since January has risen to more than 200 and a further 10,000 people have been infected.
The island's government has given the money to the international charity Oxfam which is working in the capital, Freetown, one of the hardest hit areas.
Committee Chairman Phil Gawne said the charity work would save lives.
A spokesman said: "The charity will provide access to clean water and sanitation facilities and undertake hygiene promotion in slums so that local people can take action to protect themselves against cholera.
Massive migration
"It will also ensure that a government hospital in Freetown is equipped with proper sanitation facilities."
It is thought the outbreak was directly linked to Sierra Leone's past conflict, which caused a massive migration from rural to urban areas, resulting in overpopulation and poor sanitation.
The Isle of Man overseas aid committee has also donated £25,000 to a charity called Humanitarian Aid Relief Trust (Hart UK), in response to an emergency on the border of Sudan.
The area is currently witnessing fighting between the Sudanese government and rebel groups.