Dublin sign found in Isle of Man beach clean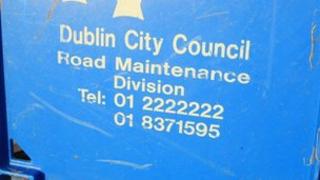 Isle of Man beach cleaners have found a Dublin City Council sign among the rubbish washed up on the west coast.
The finding was made on Ballaugh beach on Wednesday at the first of seven clean-up sessions arranged for the BeachWatch campaign 2012.
The event was organised by a local group, Beach Buddies, in conjunction with the Marine Conservation Society.
Organiser Bill Dale said: "Some rubbish on our beaches travels from as far as Russia."
He added: "Most of it comes from ships but after a storm you can find some really interesting stuff."
In August, Beach Buddies, the organisation formed by Mr Dale, came across thousands of potatoes on the Manx shore line.
'Real Problem'
The find came a few weeks after a litter warning was issued after a basking shark was filmed in Manx waters with plastic around its nose, and a grey seal was pictured with plastic around its throat near Kitterland.
"We are working to make the beaches safer and more beautiful but we really need all the help we can get- it's like painting the Forth Bridge- as soon as you have done one, you have to get started on another because we have a real problem on the Isle of Man," said Mr Dale.
"What we want to promote is a sense of pride within the community about the island's coastline, we have some of the most spectacular scenery in the British Isles here on the island and if we all pull together we can make it even better."
The BeachWatch campaign, run in conjunction with the Marine Conservation Society, takes place at several island locations.
On Thursday evening a clean up has been arranged at Balleira Beach in Kirk Michael, on Friday at Blue Point, on Saturday at Gansey and Chapel Beach in Port St Mary, on Sunday at The Lhen and on Monday at Fleshwick Beach.