Heavy rain leads to flooding in Isle of Man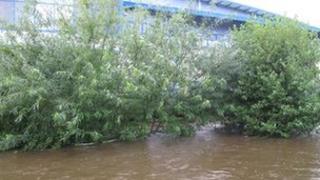 Heavy rain has led to flooding in parts of the Isle of Man, forcing the closure of some roads and businesses.
Police have warned motorists to take extra care following more than 40 hours of persistent rain.
A police spokesman said road conditions were poor, with standing water creating a hazard in many places.
Met Office forecaster David Boultbee said: "The rain is due to continue overnight but will lose its intensity going into Wednesday morning."
The poor weather comes just weeks after it was confirmed that the island had recorded its wettest summer since records began in 1947.
'Completely flooded'
The Quarterbrige Hotel in Douglas has been forced to close after a river burst its banks.
Manager Ashley Burgess said: "The amount of water is incredible.
"The bottom floor is completely flooded and we've got a wall of sandbags trying to block the water.
"We are below the water table so we have flooded before - but I have never seen it like this. I have had to close until further notice."
Meanwhile, the Isle of Man's National Sport Centre has been forced to close parts of its raceway.
Sports development officer Gianni Epifani said: "The river has risen so high that the water is all over the circuit but the astro-pitches remain open."
In Tromode, a scaffold erected to repoint a bridge was knocked down by a tree trunk which had been washed along the river.
'Don't expect it'
Gill Caine of Horizon Scaffolding said: "We had only put it up on Friday - it must have been some impact.
"We will have to wait until the water subsides until we can evaluate the situation. The river is incredibly high - you don't expect it. We have had the team down there making sure it is safe."
Insp Derek Flint said: "It is impossible to check all the roads around the island, and we would impress on people setting out for their journey to take extra care and drive to the conditions.
"For drivers navigating the back roads, be very wary of any standing water. Some puddles have turned out to be several feet deep and are unsuitable for a vehicle to drive through. All river fords should be avoided."
The police said road closures and flood warnings were being put in place when necessary.
Heavy downpours across England have resulted in homes being evacuated, disruption to train services and school closures while many roads have been closed as a result of flooding.