Whooping cough vaccination offered to pregnant women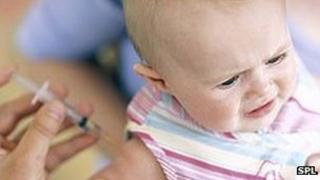 Pregnant women in the Isle of Man have been offered a whooping cough vaccine to protect their babies, after an outbreak of the disease.
According to the Isle of Man's Director of Public Health, there have been 11 reported cases in the island this year, but none have been in infants.
Dr Parameswaran Kishore said: "It is vital that babies are protected from the day they are born."
The vaccination programme will be offered to women from Monday.
Very young babies are at the greatest risk of serious complications. Nine have died in the UK this year from the disease.
The injection should boost a mother's defences, which are then passed on to the baby.
Health officials say there are no safety concerns about the vaccine and that there are surges in whooping cough cases every three to four years. It is already the worst in the UK for more than a decade.
The Health Protection Agency (HPA) said it was "very concerned" by the number of cases.
Before this year, no cases had been reported in the Isle of Man since 2009. In the UK, the total number of cases for 2012 is three times higher than for the whole of 2011.
Mr Kishore warned that the island "cannot be complacent".
He said: "We are offering the vaccination to women who are between 28 and 38 weeks of their pregnancy, to give their unborn baby the best protection."
The Department of Health estimates that at any one time there are about 1,000 pregnant women on the island and that between 300 and 350 will be at this stage of their pregnancy.
The main symptoms are severe coughing fits accompanied by a "whoop" sound as young children gasp for breath.
In older children and adults, the main symptom is a prolonged cough.
This vaccination programme will be offered to pregnant women from next week through their registered GP practice.