Isle of Man's first Manx police chief prepares for job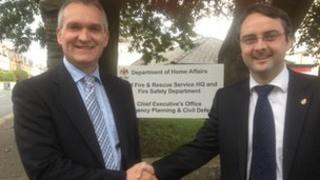 The Isle of Man has a new police chief and for the first time in history, the job has been given to a local.
In January, after more than five years as deputy, Gary Roberts from Castletown will take his place at the helm of the Manx force.
He has dedicated more than half of his life to climbing the constabulary ladder, taking him on a journey through the CID, the fraud squad, the chief secretaries' office and the office of media relations.
It is precisely this wealth of experience which Mr Roberts thinks landed him the job.
"What I know better than anyone is what the strengths, weaknesses and the potential is of the Isle of Man constabulary - it takes a long time to get to that position," he said.
"The interview panel understood that my focus is about the people in the organisation. We can't do what we need to do for the public if the people of the organisation are not as good as they possibly can be.
'Never satisfied'
"People might see disadvantages in the fact I know the system so well. They may think I am a bit complacent or a bit blinkered, well, anyone who has ever had anything to do with me will know that I am never satisfied.
"I keep moving things forward because I am not satisfied - I never think we are quite good enough."
Alongside his ongoing constabulary training, Mr Roberts has also completed human resources qualifications, experience which he is glad to be able to bring to the table.
Over the next few months the chief-in-waiting wants to meet every single member of constabulary staff to outline his expectations.
"My focus will be on staff development, rather than staff training - it's a subtle difference. Police training has traditionally been about taking officers off the street and into the classroom, I don't like that.
"I want it to be about people taking responsibility for making themselves better - I'll give them the opportunities but they'll have to take responsibility for their own improvement. I want to manage out anybody who doesn't want to develop - there will be no passengers."
Mr Roberts joined the force in 1984. He worked as a constable in Douglas and Onchan before being promoted to detective sergeant in the fraud squad in 1996.
'Fittest dog'
The 49-year-old, who was born in Douglas, became an inspector three years later, a superintendent in 2005 and deputy chief in 2008.
He is the father of two children and lives with his family in Castletown.
"I also have the fittest dog in the Isle of Man because when I have to think things through, my dog gets walked more than it probably should," added Mr Roberts.
"I am very, very self-contained and part of that means I don't have friends in the constabulary, I haven't formed allegiances, allies or friendships within the force."
Mr Roberts has been a part of the constabulary through some of the highest profile cases the Isle of Man has dealt with, including the sinking of the Solway Harvester in 2000 and the double murder of two teenagers in 2002. So over the years, he said, he has had to learn how to handle stress.
"I have developed some good coping mechanisms, now I see things coming and work very rarely stresses me.
"When it does, I deal with it internally and even my senior team will have no idea because I tend to manage it within myself and just get on with it, unusually for a senior police officer I am quite introverted - that means things get internalised."
Mr Roberts has a five-year contract and will take over from Chief Inspector Mike Langdon.
Mr Langdon, 51, from Bolton, Greater Manchester, formally took up the top Manx police role on 1 January 2008 and announced his retirement in July.