Police hunt 'L' plate car after 70 vehicles are damaged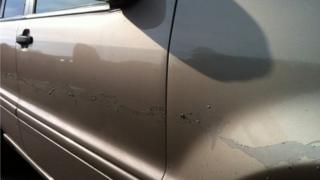 A dark coloured hatchback car, with two sets of 'L' plates is being hunted by police, after 70 cars were damaged in the Isle of Man on Sunday.
The car, which has two "L" plates on the bonnet and two on the rear tailgate, was seen on the Honna Road junction with the Bradda at 20:15 BST.
Sgt Gary Heaton said: "The vehicle may prove to be vital to the enquiry."
It is thought vandals sprayed corrosive liquid on to 70 parked cars from a moving vehicle on Sunday evening.
A £1,000 reward is being offered for information leading to the arrest of those responsible.
'Stretched to the limit'
Sgt Heaton continued: "I would like to take the opportunity to thank the public for their assistance so far in the inquiry.
"Due to the scale of the crime and the amount of victims our resources have been stretched to the limit.
"It was the equivalent of six months of criminal damage in one night for the south of the island."
Police will be writing to every victim and hand delivering information as to how to obtain a crime reference number and other information to help.
Officers estimate the damage, which happened in areas of Port Erin, Post St Mary, Bradda, Ballafesson and Castletown, will incur insurance costs running into tens of thousands of pounds.