Water spout seen off Isle of Man coast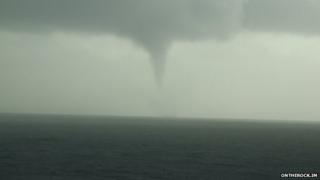 Cool air meeting warmer than average water caused a water spout seen at sea from the Manx coast, experts said.
Resident Ben Brooker said it could be seen in Douglas Bay for a few minutes from about 09:30 BST on Tuesday.
Mr Brooker lives in an apartment on Douglas Promenade and has a camera set up in his window all the time.
He said: "I saw a funny spike appearing from the base of a cloud a couple of miles out to sea, watched it get closer then water started to kick up."
He added: "I was still half asleep but I just kept snapping although it was really hard to get the focus right.
"I've seen some odd things from the window but never anything like this."
A spokesman from the Isle of Man Met Office said: "The difference between a water spout and a tornado is that a spout occurs over the sea and a tornado over land.
"The recent weather patterns we are seeing on the island meant conditions were ideal for a water spout at the time it was photographed."