Hop-Tu-Naa festival celebrated on Isle of Man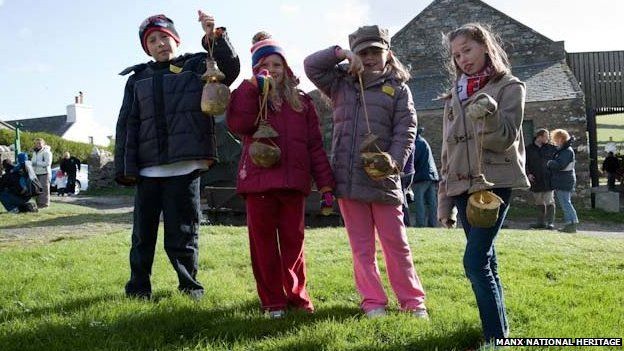 People in the Isle of Man are celebrating the annual festival of Hop-Tu-Naa, traditionally known as the Celtic New Year.
The festival, which marks the end of the summer and the beginning of winter, is held on the same day as Halloween.
During the festival children traditionally carve turnips, similar to the pumpkins used on Halloween.
Manx National Heritage is hosting two days of activities at Cregneash in the south of the island over the weekend.
Thousands of turnips are usually harvested for the celebration but this summer's bad weather has led to a poor harvest.
Cregneash site manager Anita Hogarth said: "We will have to get creative this year."
There will also be live music, song and dance, cookery demonstrations and a lantern parade.
During the festival the Isle of Man's steam railway will be transformed into a ghost train and Douglas Development Partnership will hold its "fright fest" event to coincide with the Manx festival.
The event will see street entertainers performing in the areas of Strand Street and the North Quay in Douglas, a fire show and ghost walks around the capital.
Related Internet Links
The BBC is not responsible for the content of external sites.