Two women guilty in Isle of Man election fraud trial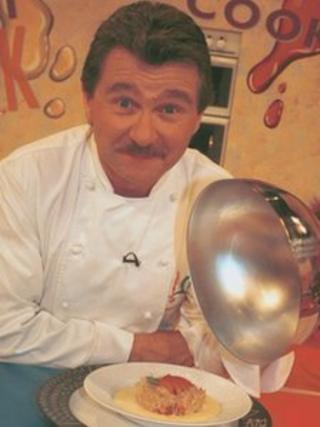 Two women who worked as canvassers for a celebrity chef during an Isle of Man by-election have been convicted of election fraud.
Gail Corrin, 40, from Douglas, and Kerry Rothwell, 25, from Onchan, were found guilty of manipulating the Isle of Man's proxy voting system.
Douglas Court House heard they were part of Kevin Woodford's campaign team in the 2010 Douglas East by-election.
Charles "Buster" Lewin, 57, of Crosby, previously admitted three charges.
The three, who were all charged with conspiracy to affect legal purposes by improper means, will be sentenced on 22 November.
Lewin has also admitted conspiracy to steal and conspiracy to forge.
A spokesman for the Isle of Man police said: "The attempt by the defendants to engineer the outcome of the Douglas East by-election in May 2010 struck at the very heart of democracy.
'Highly organised'
"It involved a highly organised system which was designed to fraudulently obtain proxy voting rights from householders in Douglas East, and cast these votes for Kevin Woodford."
Isle of Man resident Mr Woodford, best known for appearances on TV cooking shows Ready Steady Cook and Can't Cook, Won't Cook, previously told the trial he was not aware of any election fraud taking place.
He unsuccessfully stood in the by-election to become a Member of the House of Keys.
During the trial the court heard Mr Woodford's campaign office was run from Derby Road in Douglas and was funded by Seamus Nugent, the head of property development company, Dandara.
The manager was Lewin, a man who Deemster David Turner described as a "skilled con man".
Corrin worked for a time as a volunteer for the campaign while Rothwell was recruited by Lewin through an employment agency on the Isle of Man.
The court heard that in the run up to the election the island's Treasury Office received an unusual number of proxy vote applications, most of which were for Mr Woodford.
In the 2010 by-election, the Treasury received a total of 253 proxy applications for Douglas East, compared with 39 in the 2006 General Election.
During the five week trial, police said 91 witnesses were called to give evidence, some of whom were residents of East Douglas and had been visited by Mr Woodford's campaign team.
The court heard that some had agreed to the proxy vote but many had not.
Mr Woodford, who eventually came third in the election, said he had no knowledge of any fraudulent activity within his team, and had he been aware of any wrong-doing he would have pulled the campaign.