Bishop's seal found in field on display at museum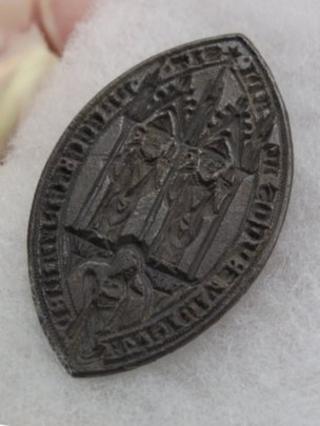 A 14th century Bishop's seal discovered by metal detector enthusiasts is on display at the Manx Museum for the first time.
The silver seal, which was discovered by Andy Falconer, is described by historians at Manx National Heritage (MNH) as "incredibly significant".
Curator of archaeology at MNH, Allison Fox, said: "It is a very rare find and an important part of Manx history."
The find was made in a field in the north of the island in February.
Andy Falconer made the "once in a life time discovery" when out searching with fellow treasure hunter Rob Farrer.
The 47-year-old said: "I had no idea what it was at first but when I showed Rob his eyes lit-up."
Mr Farrer, 59, a metal detectorist for 30 years, said: "I couldn't believe it. I honestly think it is the most important object to be found in the Isle of Man this century and certainly the only one of its kind."
Treasure trove
Mr Falconer took his discovery to the Manx Museum in Douglas, where the Coroner of Inquests was informed.
According to Manx National Heritage more research needs to be done before the treasure trove process is completed.
Treasure trove is an ancient law which allows the British Crown to claim an item of value if the owner cannot be traced.
Mr Falconer said: "I've found a few coins over the years but this is by far my most important discovery and I am over the moon that it is on display.
"It's been my ambition to find something that will change history."
The seal itself is about three centimetres in length, made of silver, and shows two figures sitting facing out and a third kneeling in prayer.
Around the edge there is an inscription in Latin, which translates as "Let the prayers to God of Germanus and Patricius help us".
Rare find
Ms Fox said: "Saints were very important people for the whole island.
"The Isle of Man has lots of artefacts from the Viking period and a few hundred years after but a find from this period is rare.
"Most of our information for this period comes from manuscripts rather than artefacts."
The seal stars in the Manx National Heritage's Forgotten Kingdom exhibition, which runs until March.
The exhibition explores the Kingdom of Man and the Isles from 1000 AD - 1300 AD.
As well as the Bishop's seal the exhibition includes the Chronicles of Man, a 13th Century manuscript described as the Isle of Man's first story book, and the Lewis Chessmen.