Ash dieback could "devastate the Manx countryside"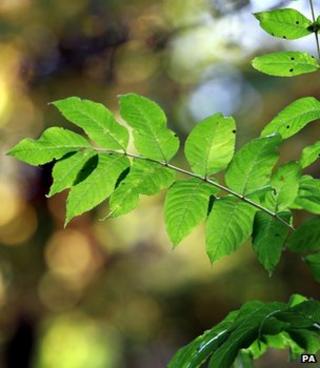 The arrival of ash dieback disease could have "devastating consequences" in the Isle of Man, according to the island's environment minister.
The Manx government has issued a ban on the import of ash after an outbreak of the disease in the UK.
Environment minister, Phil Gawne MHK said: "If it arrives it could devastate the Manx countryside".
According to government statistics around one quarter of the island's trees are ash.
Some scientists have warned that the outbreak has the potential to devastate the UK's population of 80 million ash trees.
'Immediate ban'
Mr Gawne said: "This disease has caused widespread damage to ash tree populations in continental Europe and is particularly destructive to young plants.
"We are taking the situation very seriously and have imposed an immediate ban under emergency powers to help reduce the risk of its arrival."
The government has put a complete ban on the importation of ash trees, ash products and seeds.
The legislation also gives the Department of Environment, Food and Agriculture (Defa) powers to take action to contain or eradicate the disease when identified.
To date, dieback has been confirmed at more than 100 sites across the UK, with woodlands in Norfolk, Suffolk, Kent and Essex among the worst affected.
The first case in the North West of England was confirmed on Wednesday at a nursery in Knutsford.
'Quick decisive decisions'
Forester Jason Bolt said: "I must stress that there are no signs of the disease on the island, but we will need to make quick decisive decisions if it does arrive.
"We are in constant contact with the UK Forestry Commission and we are very aware of the threat and huge impact it could have on our ash population."
Defa and the Manx Wildlife Trust have already commenced surveys to monitor the island's ash population. The department is asking that people visiting woodland or glens clean their boots and bicycle tyres.
Dieback, caused by the Chalara fraxinea fungus, was first recorded in eastern Europe in 1992 and spread over two decades to infect most of the continent.
The first confirmed case in the UK was recorded at a nursery in Buckinghamshire in March 2012.
The Forestry Commission in Great Britain has issued guidance on how to identify the disease.