New app launched to 'boost' Manx language revival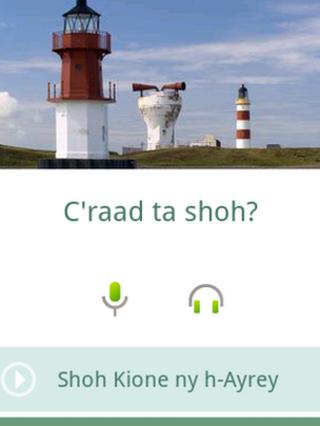 A new app for smart phones and tablets has been launched to help people learn the ancient Manx language.
In 2009 the Isle of Man's native language was declared "officially extinct" by UNESCO, but it has since seen a revival.
Manx Language Development Officer Adrian Cain said the app was a "real boost for the language".
The Learn Manx app is based on a current course run by the Manx Heritage Foundation.
Mr Cain hopes the free app would bring the language into the 21st Century.
He said: "Increasing numbers of people are showing an interest in the language both on the island and around the world.
"We felt it was a great opportunity to use modern technology to help its revival."
'John McGuinness'
The app includes 10 chapters of learning activities, while two additional lessons feature the Isle of Man TT races.
Mr Cain added: "We've tried to make it fun by using TT riders like John McGuinness and Guy Martin.
"We hope it will encourage more people to get involved."
Dave Burnett, from Manchester, has been attending Manx classes on the island for four years.
He said: "It is like having your own portable teacher in your pocket. It is going to be very useful."
In 2001, the Isle of Man's only Manx-speaking primary school, Bunscoill Gaelgagh, opened.
Head teacher Julie Matthews said: "The language was in decline for several decades but this is a great idea. Interest has been building and building."
The school, which teaches almost exclusively in Manx, started with nine pupils but now has 60.
In 2009 pupils wrote letters in Manx to UNESCO after it declared the language "extinct".
'Critically endangered'
The children asked: "If our language is extinct then what language are we writing in?"
The island's then chief minister, Tony Brown, also wrote to UNESCO claiming the language was "still flourishing on the island".
The classification has since changed to "critically endangered" which remains its current status.
Mr Cain added: "The revival of interest in Manx is a great success story and an example for the rest of the world."
Manx Gaelic is one of just six Celtic languages, the others are Irish, Scots Gaelic, Welsh, Breton and Cornish.
It was thought to have died out in the mid-19th Century but there are now believed to be more than 1,000 active speakers.
Over the next six months more modules will be added to the free app to cover all the patterns need to speak the language.