A campaign to plant 2,013 trees in 2013 is launched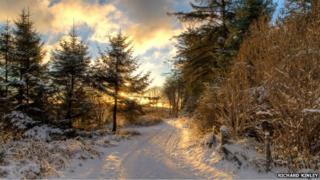 The Isle of Man's Woodland Trust is encouraging people to be more "eco-friendly" this Christmas as part of a new tree planting initiative.
The trust is asking people to send specially designed Christmas e-cards instead of traditional cards with the money going towards tree planting.
The trust's Nula Perrin, said: "For each e-card sent the trust will plant a tree in Manx countryside in 2013".
The charity aims to plant 2,013 broad leaf trees in 2013.
According to the charity 1.7 per cent of the island is covered in trees compared to 6 per cent in UK.
Ms Perrin said the Plant a Manx Tree in Twenty One Three campaign could significantly increase the island's tree coverage.
'Great visual pleasure'
As part of the initiative volunteers are being sought to help with the gathering of seeds and planting.
The majority of the broad leaf trees which will be planted early next year have been grown from seeds on the island.
Environment minister Phil Gawne said: "It's a fantastic scheme and one that we fully support.
"The Isle of Man does have a low percentage of tree coverage compared to the UK so the more trees planted the better."
Chairman of the Woodland Trust Professor Simon Maddrell said: "We aim to plant at least 2,013 trees next year and, if we can, more than that."
He added that whilst the main aim of the campaign was to "increase ecological diversity", it would also add "great visual pleasure."
The Woodland Trust would like to hear from any individuals, schools or groups who would like to help.
Following the outbreak of ash dieback disease in the UK, the trust is not planting ash trees.