Letters from Irish children discovered in bottle on beach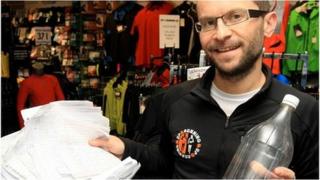 A bottle containing messages from Irish children which was found on an Isle of Man beach could lead to the expansion of a Manx beach cleaning group.
The bottle, containing 23 notes from pupils in Drogheda, was found at Gansey Beach by Beach Buddies group member Chris Cale.
He said it was "the first time I've ever found anything like this".
The Drogheda school now plans to link up with the Isle of Man group and take on beach cleaning in its area.
A spokesman for the school said he was "very interested to hear about Beach Buddies and the children are very keen to get involved".
The bottle had been at sea for four days before it was discovered by Mr Cale.
He said he could "see from the contents of the letters that the children were really excited to be conducting an experiment on how far rubbish travels in the ocean".
"I was absolutely amazed when I opened it to find so many letters inside and that they were so interested in how litter ends up on beaches," he said.
"The messages are just brilliant - lots of the children gave information about their families, their pets and favourite foods, sports and hobbies.
"It was just brilliant to sit down and read them all."
Beach Buddies founder Bill Dale described the find as a "wonderful surprise".
He said it was "amazing to see that it took under four days to get to our beaches the 60 plus miles from Ireland".
"What's even better is that the school is keen to get involved," he said.
"We never thought of expanding our operation outside of the Isle of Man, but the response from this school is so positive that we will definitely be giving them as much assistance as possible to start a branch of Beach Buddies in Ireland."
Mr Dale, who has been organising beach cleans in the Isle of Man for six years, plans to travel to the school to meet the children in the new year.
The group plans to reply to each of the letters.
According to the school, a total of 52 letters were written and sent in four bottles as part of a project on litter.